If you've done everything else right in your e-commerce business, the last—and perhaps most important—step is shipping. Your shipping choices impact every aspect of your business, from pricing your product and maintaining your margins to creating happy customers who make repeat purchases. That's why it's so important to make good shipping decisions. We've done the research to help guide you toward shipping solutions that make sense.
Setting Up a Shipping Policy On Your Website
Customers need to know how and when you'll ship their items. A clear-cut policy on options like handling time and fees, international shipping, insurance and discounts lets them know exactly what to expect. More info on creating a shipping policy.
5 Shipping Best Practices You Should Not Ignore
Shipping practices factor into customer satisfaction more than you may have thought. Find out how shipping the right way can keep your customers satisfied – and coming back for more. More info on shipping best practices.
5 Simple Tips To Address Shipping Delays
Don't let shipping delays affect your reputation in the marketplace. Follow these tips to understand how effective communication is always the best policy. More info on communicating shipping delays to customers.
Is Free Shipping the Right Choice for My Business?
Many shoppers find free shipping irresistible. But is free shipping right for your business? Learn to crunch numbers to decide whether you should roll shipping costs into your product price or add it separately. More info on free shipping.
3 Reasons to Consider Drop Shipping For Your E-Commerce Site
Drop shipping can save you time, energy and money – but is it right for your e-commerce business? Learn about three great reasons why should start along with some important considerations. More info on drop shipping.
7 Drop-Shipping Solutions For Your E-Commerce Business
Considering drop-shipping as an option for your e-commerce business? Here's a list of partners that may help you get started.  More info on drop-shipping solutions for your e-commerce business.
Proper Packaging To Prevent Product Loss
Proper packaging can prevent your shipped products from being damaged and save your e-commerce business thousands of dollars. Learn how to assess your product and evaluate shipping methods & filler materials to prevent product loss.
3 Tips to Lower Packaging Costs
Your packaging choices can have a big impact on your bottom line! Find out how a few simple changes can help increase your profits without sacrificing packaging quality. More info on how to lower packaging costs.
How to Reduce Your Shipping Filler Costs
Shipping filler prevents items from shifting around during shipping and helps maintain the structure of your box. Learn about the various filler options and how they can impact your image as an e-commerce business owner and your profits.

Label Options: Plain Paper vs. Adhesive Labels vs. Thermal Printer
Learn more about features of various options to print shipping labels – plain paper, adhesive labels or a thermal printer. More info on shipping label options and which is best for your e-commerce business.
3 Ways To Save Time By Batch Printing Shipping Labels
Printing shipping labels in batches will not only save you time, but also help streamline your business operations.  More info on how to save time with batch printing of shipping labels.
Is Plastic Or Paper Shipping Tape The Right Choice For Your Business?
Most people often assume that plastic shipping tape is the only option available to secure one's mailings and packages. However, other options such as paper shipping tape can save you money. More info on plastic and paper shipping tape.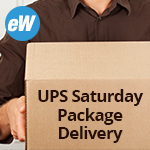 UPS Will Deliver Packages On Saturdays
How will UPS's new Saturday delivery option affect your e-commerce business?  Will this help speed up your shipments?  Here are a few points to consider.  More info on UPS Saturday Package Delivery.
Dimensional Weight Calculator Update for 2017
If you ship unusually or oversized items, you may encounter dimensional weight (DIM) rates as you review your shipping options.  Here's how different carriers calculate DIM.  More info on the DIM Weight Update. 
How To Calculate Dimensional Weight in 2015
Shipping carriers are focusing on size vs. weight in the new year. Here's a look at what to expect, how to calculate your costs and ideas for savings. More info on how to calculate dimensional (DIM) weight in 2015.
[Infographic] 2014 Guide to Holiday Shipping Carrier Chang
es & "Ship By" Schedules
Quickly determine what service to use to ensure timely package delivery.  More info on the 2014 Guide to Holiday Shipping Carrier Changes & "Ship By" Schedules.
Holiday Shipping Strategies
Shipping during the holidays requires an extra level of attention to details like timetables and returns. Get your holiday shipping ducks in a row with these ideas and tips. More info on holiday shipping strategies.
Learn about the Rakuten.com Shopping Super Sale Event
A big sales opportunity could be coming your way this spring! Learn about the Rakuten.com Shopping Super Sale Event and how small businesses can benefit. More info on the Rakuten.com Shopping Super Sale Event.
What You Need to Know About Free Shipping Day
Thousands of merchants will be participating in Free Shipping Day on December 18th, 2013. Learn why this date is important to online retailers of all sizes and if it is a good option for you. More info on free shipping day.